Pressure Switches
Single Pole Single Throw Pressure Switch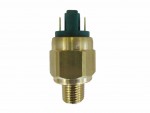 Single pole single throw pressure switches are a simple low cost way to monitor pressure in a system, they are available with either normally open or normally closed contacts. Applications Engineering have a range of single pole single throw switches available with many different options including thread types, electrical connections and body materials with adjustment ranges from 0.1 to 1 bar to 30-300 bar, adjustment is easily made via the...
View products
Single Pole Double Throw Pressure Switch

Applications Engineering is a leading supplier of high quality single pole double throw pressure switches for a huge variety of uses. A single pole double throw switch (SPDT pressure switch) offers you the ability to choose between either a normally open or normally closed contact with one switch. They have the additional advantage of being able to switch from one circuit to another. Depending on how the circuit is wired...
View products
Electronic Pressure Switches
Electronic pressure switches are used where the application calls for a high level of accuracy and repeatability, they are robust and reliable and are easy to use with a large display and push button set up procedure. These switches are available either as a PNP or NPN switched output or a combination of a switched output and an analogue output so that pressure can be continuously monitored.
View products
About our Pressure Switches
Pressure switches are widely used for a large range of applications throughout industry and manufacturing. Their function is to provide systems with electrical feedback in response to measuring a rise or fall in pressure. A pressure switch is usually adjustable with regard to the chosen set point of operation.
Also known as pressure sensors, they are used to respond to fluid pressure. For example, a pneumatic pressure switch in compressors and pumps, or hydraulic pressure switches in automotive engineering.
As a leader in the industry, Applications Engineering specialise in providing pressure switches for a huge variety of measurement applications. For simple monitoring systems we offer single pole single throw switches, while for more complicated and advanced requirements we offer a range of single pole double throw switches.
Depending on the application of the pressure switch we can provide different models to best suit your requirements. Whichever of our pressure switches that you choose, you can be sure that it will provide fast, dependable and consistent response regardless of its function.
We supply to a huge variety of companies and business across a broad range of requirements. This could include anything from highly robust and accurate electronic pressure switches to differential pressure switches. If you are not sure which kind of pressure switch is best suited to you, don't hesitate to get in contact with us today. You can speak to a member of the team who will be able to provide you with expert advice and guidance on choosing a pressure switch.
Each of our pressure switches are manufactured to the highest standards. This ensures that they are durable, reliable and long-lasting. They have been rigorously and comprehensively safety tested and are available at highly competitive prices. Please browse our product range below for more details.