EG – Magnetostrictive Level Transmitter
The EG series Magnetostrictive Level Transmitter was created from the principle of magnetic field strength of two different directions thus sending out a signal to determine the exact level of the medium. Therefore even if there should be a power failure and reconnection is needed, it will not affect the previous setting so there is no reconfiguration involved. Moreover there is no contact of the sensing element which is internally in the stem itself, so even if during repeat operation, there will be no damage done to the sensing element that might caused due to wear and tear.
As Magnetostrictive Level Transmitter signal output was direct, therefore additional installation of output interface was not needed thus any transfer interface. As the resolution was very accurate and reliable, this will enable to reduce the malfunction of the product and cause production down time of the company. Moreover, due to the durability of the sensing element, lifespan is exceptionally long, minimal maintenance and correction is needed, thus stocking up on replacement parts for maintenance is not needed.
For PC connection to enable distant monitoring of one EG transmitter ( use RS232 / RS485 communication port) or multiple EG transmitters (use RS485).(RS 232 / RS485 are optional accessories).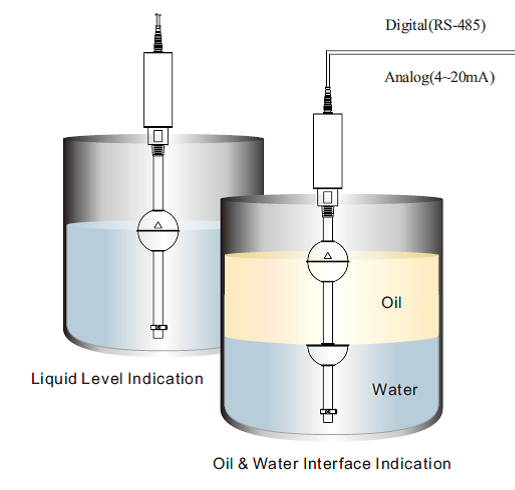 Request a Quote
Materials
304 or 316 grade stainless steel
PVDF or PP coatings available for aggressive media
Input Voltage
24Vdc, 5-30Vdc or 12-30Vdc dependant on model
Options
High temperature version
Dual float interface version