Temperature Switches and Sensors
Temperature Switches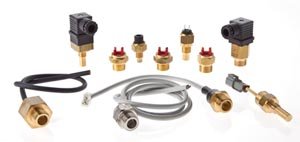 At Applications Engineering, we supply a large range of temperature switches, from general purpose temperature switches to adjustable thermostat type temperature switches for use with boilers, pumps and heating system applications. We also provide high precision temperature sensors for process monitoring and control of high specification products in industries such as foodstuffs, pharmaceuticals and automotive engineering. If you have a particular engineering requirement and cannot see the appropriate component, please...
View products
Temperature Sensors
In many industrial processes the temperature of the machine or machine components plays a fundamental role. A temperature switch or temperature sensor can measure temperature in a number of ways and use this information as part of a processed controlled application. There are a wide range of different temperature sensors available for application specific purposes.
View products
About our Temperature Switches and Sensors
Stocking and supplying a huge range of temperature switches, Applications Engineering has developed a reputation for providing high quality products at excellent prices. Temperature switches are used in a huge variety of applications in many different industries – they ensure that the temperature of a machine, a piece of equipment or an individual component remain within certain predefined parameters.
The temperature sensors that we supply can be used to measure the temperature of mechanical and machine components. This is a vital safety feature as well as a way to monitor the efficiency of equipment or a system, and is used in many different situations. It's vital that you should know exactly what the temperature switch or sensor will be used for in order to choose the right model.
Our team of expert staff would be delighted to talk through the range of different temperature sensors that we offer to help you understand exactly what you need. Please don't hesitate to contact us for more information.