Temperature Switches and Sensors
Temperature Switches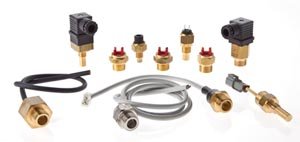 Applications Engineering specialises in supplying a huge variety of temperature switches, from general purpose temperature switches to adjustable thermostat-type temperature switches which can be used with boilers, pumps and heating system applications. Additionally, we can provide high precision temperature sensors used in process monitoring and the control of high specification products for industries including pharmaceuticals, automotive engineering, and foodstuffs. If you are looking for a specific type of temperature switch...
View products
Temperature Sensors
In many industrial processes the temperature of the machine or machine components plays a fundamental role. A temperature switch or temperature sensor can measure temperature in a number of ways and use this information as part of a processed controlled application. There are a wide range of different temperature sensors available for application specific purposes.
View products
About our Temperature Switches and Sensors
Here at Applications Engineering, we stock and supply a huge range of temperature switches, and have garnered a reputation over the years for delivering exceptional customer service. Our collection of temperature switches can be used in a number of applications across a huge range of industries – from pharmaceuticals to automotive engineering.
Temperature switches and sensors function by ensuring the temperature of certain machinery stays within a predefined set of parameters. By measuring the temperature of mechanical and machine components in this way, this not only improves the overall safety of the machinery but it also helps hone the equipment or system's overall efficiency as well.
Understanding precisely what the temperature switch or sensor will be used for is vital to choosing the right model. However, if you're unsure about this and are feeling overwhelmed by our collection, please don't fret – we are here to help.
Our team of expert staff would be more than happy to discuss our range of temperature sensors with you and help you understand exactly which one you need. Simply get in touch with us today.
FAQs
Temperature sensors are devices used to monitor and measure the temperature of machinery through the use of an electrical signal. They are important in a range of different applications and are an essential component of equipment used to develop drugs, heat liquid or clean other equipment.
Temperature switches, on the other hand, are devices that function in response to a change in temperature or pressure. In general, they work in the same way as a pressure switch.
Temperature switches are specifically designed to be used in boilers, heating systems, circulation pumps, burners, and air heaters. They are typically used across a wide range of general-purpose applications, but are particularly important in industries like foodstuffs, pharmaceuticals and automotive engineering.
Along with our range of temperature switches and sensors, we also offer a wide collection of other switches, valves and sensors. After all, we understand how complex industrial machinery can be so we are always on hand to help you find the products best-suited to your exact requirements. For any help or advice, contact our team today.
Temperature sensors track changes in temperature via an electrical signal. They are typically comprised of two metals, which generate an electrical voltage after a change in temperature has been identified.
Temperature switches work in a similar way to an electrical switch, being turned 'on/off' in response to a specific fluctuation in temperature. They are typically comprised of two key parts: the sensing part (typically a sensing bulb filled with a liquid, gas or bimetallic strip) and the snap-action contacts (which turn on the electrical power).