Plastic Level Switches
Horizontal Plastic Level Switches
At Applications Engineering, we design and supply a wide range of level switches for fluid process and control systems in many industries. This includes horizontal level switches constructed from a high-quality polypropylene, nylon and Versaplast. This design allows a level switch to be installed inside a tank that is difficult or impossible to access from the top or bottom, and the material choice enables a long-term reliable performance in oils,...
View products
Vertical Plastic Level Switches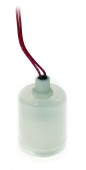 As part of our extensive range of level switches, we offer a range of vertically mounted level switches, constructed from quality polypropylene or PVDF, to be mounted to the top or bottom of your tank. Operating magnetically with a reed switch system, our plastic vertical level switches come with leads of various lengths to provide a high or low-level signal as required. At Applications Engineering, all of our products are...
View products
About our Plastic Level Switches
If it's plastic level switches you need, Applications Engineering are proud to provide the best quality, most durable products on the market. We stock both vertical and horizontal plastic level switches, so they are extremely versatile and can be used for almost any engineering project you are working on. All of Applications Engineering's previous customers have been very satisfied with the high quality plastic level switches we provide, and they will keep your project running smoothly and safely.