How To Stay Safe From Fire Over Halloween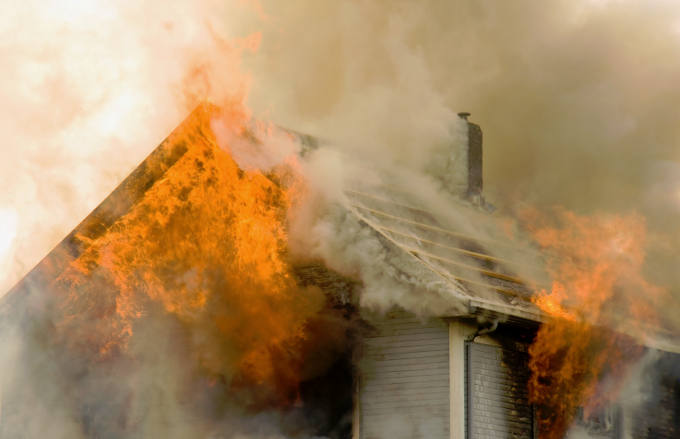 Whether it be children running excitedly from house to house, setting up a variety of festive decorations, or playing pin the nose on the witch, Halloween is an incredibly popular time of year for kids and adults alike.
However, without taking the correct care and preparation, each of these Halloween activities can actually present a lurking fire risk, turning what was meant to be a fun-filled event into one that is truly terrifying.
So, to ensure your Halloween festivities remain safe and scary in a controlled way this year, we're here to offer some helpful hints and tips on how to prepare in advance – from the fancy dress outfits you wear to the pumpkins you carve.
Use Battery-Operated Candles
 Pumpkin carving is one of the most popular activities to do at Halloween, creating unique jack-o-lanterns to place on the porch and light up the night sky.
Typically, these jack-o-lanterns use candles inside them and, at night-time, are often left unattended for long periods of time.
Therefore, to ensure they don't cause any accidental or unintentional damage, investing in a battery-operated candle or glow stick could be a much safer idea, allowing them to still function in the same way but without a naked flame housed inside.
Position Decorations Carefully
Over Halloween, many people like to hang out decorations of all shapes and sizes – from dried flowers and cornstalks to scarecrows and paper ghosts.
However, when these are positioned incorrectly – such as near to a lightbulb, heater, overstuffed electrical outlet or an open flame – this can represent a significant fire risk, largely due to how easily these Halloween decorations can catch fire.
As such, it's important to consider where you are hanging your decorations – otherwise, you could end up unintentionally providing a fire with the fuel it needs to get going.
Check Your Fire Safety Equipment
Having sufficient fire safety equipment and processes in place is vital at all times of the year, but it is arguably especially important over Christmas and Halloween.
These festive celebrations typically involve putting up a variety of decorations around the home, some of which could impact any pre-designated fire escape routes or cover over fire safety equipment.
Therefore, to make sure your Halloween celebrations go off without a hitch, make sure all of your escape routes and exit are clear and double-check your fire safety equipment is working correctly.
If you aren't sure how to do this though, don't worry – give our team a quick call and we'd be more than happy to talk you through the process.
Be Careful About Your Costumes
One of the best aspects to Halloween is being able to dress up as your favourite weird, whacky and scary characters.
However, while you may not think it, the fancy dress outfit you wear could actually be a lot more flammable than you may think, so it's important to think carefully about your costume in advance.
For this reason, you should try to avoid wearing costumes which have long trailing fabric or are manufactured using cotton or linen, as these types of materials are particularly flammable when exposed to a naked flame.
Final Thoughts…
 Halloween is a fantastic event which, when enjoyed responsibly, can quickly become one of the highlights of the year.
For further advice on how to ensure your celebrations remain safe and fire-free, our team here at Applications Engineering would be more than happy to help.
With substantial experience selling a wide variety of fire safety equipment such as fire sprinkler products, we are best-placed to answer any questions or queries you might have, so please do not hesitate to give us a call.