Fire Sprinkler Valve System Products
About our Fire Sprinkler Valve System Products
Applications Engineering specialises in creating high quality fire sprinkler valves. We have developed innovative, compact and easy to install valves for sprinklers that cover all the relevant requirements for modern domestic and residential properties. Our products are of the highest standard and represent fantastic value for money.
We additionally offer everything from single and double check valves that can be used in a range of applications, as well as a pump cyclic test unit. If you're not sure of exactly what you need, please don't hesitate to get in contact with us today. A member of our friendly team will be happy to talk through your project and offer expert advice and guidance on our range of products.
We have a fantastic reputation for exceeding the expectations of our customers and offer next day delivery on the majority of our products.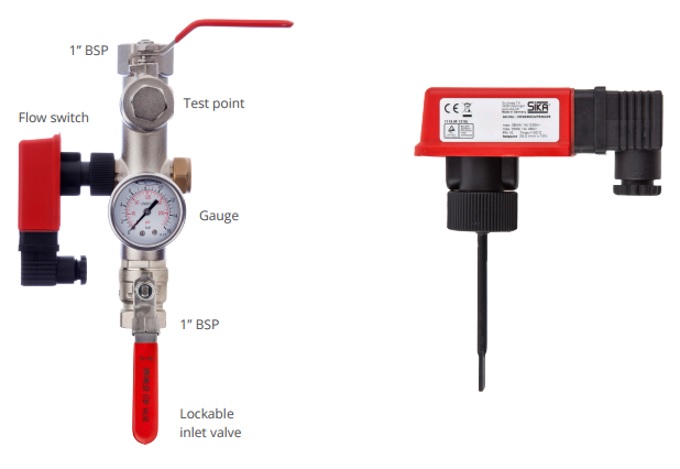 Frequently Asked Questions
What is a fire sprinkler?

A fire sprinkler is part of a network of sensors, valves and piping that are used to detect, control and extinguish fires inside a building, through targeted water dispersion.

How does a fire sprinkler work?

Each sprinkler head is kept sealed by either a strip of heat-sensitive metal, or a small glass bulb filled with a liquid alcohol. When the temperature of the room exceeds approximately 70°C, either the metal melts, or the liquid expands and shatters the bulb – allowing the water to escape from the pipe above. The water is forced into a small deflector, which bounces it upwards to create a gentle spray of water over the area below.

Each sprinkler head acts individually, so a small fire can be contained and extinguished without other areas of the building being affected. If a blaze spreads, so too will the action of the sprinkler system, until the fire is put out or firefighters arrive at the scene.

Should I use a fire sprinkler?

Sprinklers not only save lives, but can significantly reduce the damage caused by a fire. Their instantaneous response to a breakout allows a fire to be controlled before emergency services can reach the scene, and allow building occupants to safely evacuate the premises.

Legislation outlines which properties legally require fire sprinklers as part of their safety measures, including businesses and residential buildings (like blocks of flats). Even if it is not mandatory to install a fire sprinkler system, consider the risk of fire and the potential damage. Installing a fire sprinkler can be costly, but it seems like a small price to pay for the protection of valuable stock, and human lives.

When to use a fire sprinkler

Warehouse spaces or shop floors over 2000m2
Industrial storage over 20,000m2
Social housing
Care homes
HMOs
Residential blocks over 30m tall
Speak to a Friendly Expert Today
If you have any questions about our products or their applications,
please give our friendly team of experts a call.