What is a priority demand valve?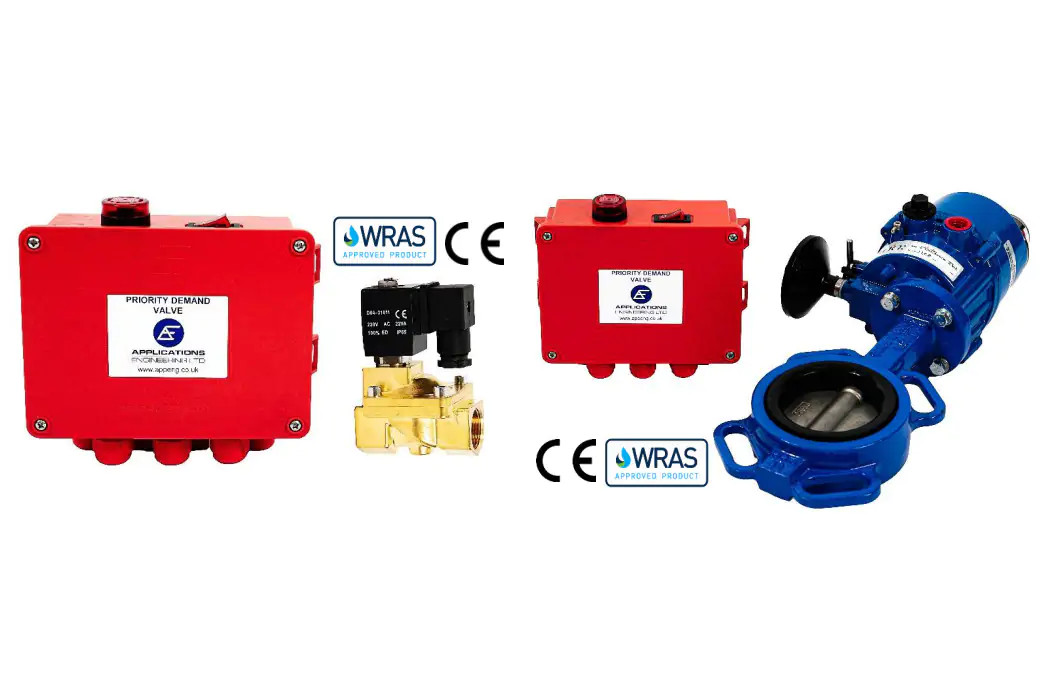 Here at Applications Engineering, we provide a wide range of high-quality mechanical switches and sensors, catering for a variety of applications across many industries. Our range includes pressure switches, flow switches and sensors and fire sprinkler valve systems. Today, we would like to focus on priority demand valves and discuss why they are such an important element of a fire sprinkler system.
What does a priority demand valve do?
A priority demand valve is installed in a fire sprinkler system to restrict water flow in the event of a fire. It is an electrical valve that prevents water from flowing to your property during a fire, instead ensuring that all of the available water goes into the sprinkler system.
Fire sprinkler systems rely on pressure and flow from a water supply to safely and effectively control a blaze inside a property. This valve helps to protect the water supply to the fire sprinkler, rather than wasting it by distributing it to other areas of your property. Why would you need to take a shower, for instance, when there is a fire blazing in your home?
It's better to concentrate the direction of water towards the emergency and switch it back to other areas of the property once that has been dealt with. We provide priority demand valves in two specifications, ½" – 2" and 2 ½" – 8" to accommodate pipe size and water flow.
How does a priority demand valve work?
During normal conditions, a priority demand valve sits in an open position, keeping the flow of water to your property at a consistent level. However, the moment your fire sprinkler system engages, the priority demand valve automatically closes. By closing itself, the priority demand valve isolates the supply to your property whenever your fire safety system has been activated by sprinklers, smoke alarms or power outages.
Priority demand valves come with either a solenoid valve or butterfly valve, depending on the requirements of your system. In situations where a property has a shared water supply, a priority demand valve ensures compliance with water supply regulations from the British Standard for Fire Sprinklers.
Typical properties identified in this regulation are:
Individual dwellings such as houses and flats
Houses of multiple occupancy
Blocks of flats
Dormitories
Hostels
Residential care homes
Bed and breakfast accommodation
How do you know if you need a priority demand valve?
If your water supply is unable to provide an adequate water flow or pressure but your property fits into the above classification, a priority demand valve is required. A fire commissioning engineer is responsible for testing the water flow when commissioning a new fire sprinkler system. If the engineer deems your property needs it, a priority demand valve will be fitted into your property's domestic water system just past the domestic stop tap.
Fire sprinkler systems with Applications Engineering
Your fire sprinkler system is an essential safety and emergency installation that you want to ensure is in full working order at all times. Here at Applications Engineering, we specialise in creating high-quality fire sprinkler valve systems for modern domestic and residential properties.
We have developed innovative, compact and easy-to-install valves for sprinklers that are of the highest quality and value for money. From dual port and ball valves to pump checks and pressure switches, we provide a comprehensive set of applications for all your fire sprinkler system needs.
If you would like to know more about any of our products, get in contact with a member of our expert team today and we will be more than happy to assist you.