RF Admittance Level Transmitter – EB43 Series
DESCRIPTION
With its unique mechanical design, the EB43 utilizes RF Admittance principle which is suitable for fluid level detection, including water, water based fluid, fuel oil, lubricant oil, and Freon / Refrigerant. The EB43's robust mechanical structure and design ensures reliable & accurate level measurement in various industries.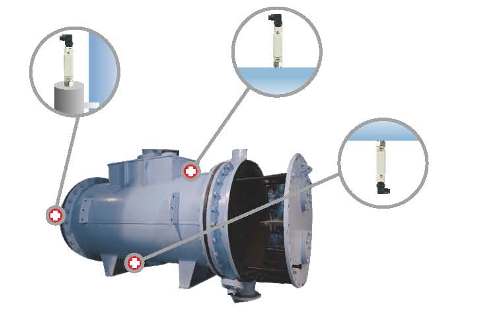 FEATURES
Low power consumption (20mA max.)
High accuracy
Suitable for fluid measurement:
Refrigerants (ex. R22, R134a,R401a, R404a, R407a, R507)
Water based fluid, lubricant oil and fuel oi
Petroleum and asphalt
With button/LED indicator for on site set up.
Response time less than 1/4 sec.
Detachable housing design, no leakage during regular maintenance.
MIL-STD-202F-201A Compliance
IEC60092, IEC61000-4, IEC60068-2 Compliance
Technical Spec
| | |
| --- | --- |
| Supply voltage | 11~36 Vdc |
| Output voltage | 0~5 Vdc or 1~6 Vdc |
| Length | 1500 mm (max.) |
| User interface | Dual buttons & LED indicators |
| Operating temperature | -40~85°C |
| Process pressure | 27 bar (400 psi) |
Related Categories
Advantages
Low power consumption
Quick response
Low cost
High accuracy
Applications
Refrigeration
Oil tanks
Water based fluid measurement