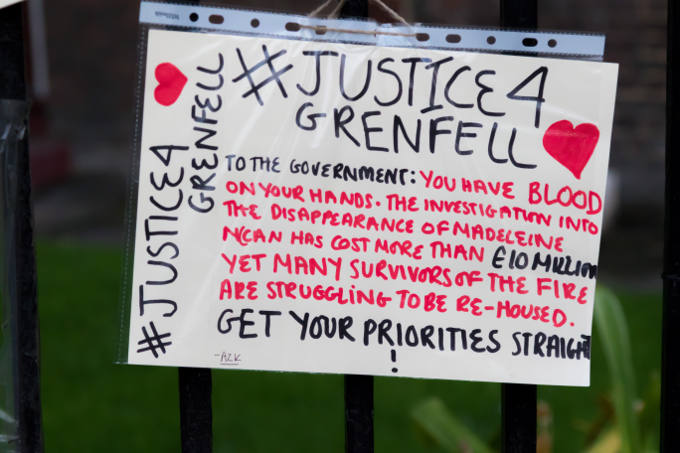 On the evening of Wednesday 14th June 2017, a fire broke out in the kitchen of a fourth floor flat at the Grenfell Tower – a 23 storey tower block in West London. Within minutes, the fire had raced up the exterior of building, spreading across all four of its sides, and engulfing it in flames.
Only two hours after the initial fire had set alight, many of the upper floors were aflame. Seventy-two people died as a result, and many others were left suffering traumatic injuries. As such, the event is now widely known as one of the UK's worst modern disasters.
The aftermath
Once the flames had been extinguished, the police confirmed in November 2017 that, of the seventy-two people that died, 20 were different nationalities, and most of them lived on the 10th floor or higher. Five non-residents and a stillborn baby were also found to have died in the blaze.
Prior to that, an inquiry into the cause of the fire started in September 2017 and a report is expected to be delivered later this year. Many hypothesised at the time that a Hotpoint FF175BP fridge freezer was to blame for causing the fire, but a government safety investigation found that the appliance had passed all required safety regulations.
Fire safety experts also said at the time that the cladding used on the outside of the building, known as aluminium composite material (ACM), caused the fire's unprecedented spread. As a result of this, the 'stay-put' policy that residents were told to use by firefighters was redundant, and has since been described as extremely dangerous by those who survived by ignoring the advice.
Continued risk
A large proportion of people remain concerned at the lack of progress that has been made since that fateful day in North Kensington. Many properties and building blocks throughout the UK still feature ACM material as part of their building structure, leaving many homeowners and tenants desperate for it to be removed due to safety concerns.
As a result, this is having a knock-on effect on the property market, with estate agents now struggling to sell 'unsellable' properties due to uncertainty around the recent ground rent scandal and who's responsibility it is to pay for the work.
Many of those who survived the blaze are all now caught up in legal drama as well, after more than 200 survivors and relatives of those killed decided to take legal action against US-based manufacturers. This was due to the firms providing liable products which lead to wrongful death.
Community spirit
On a more positive note, the Grenfell tragedy has seen the wider community pull together to pay tribute to those affected. A garden, a silent walk and a memorial mosaic represent only a few community-made projects built in memory of the victims – not only ensuring the disaster never fades from memory, but also providing survivors and their families a place to pay tribute.
Here at Applications Engineering, we are experts in fire safety and are firm believers that fire sprinkler systems should be installed in buildings throughout the UK. If you would like to ensure your property or building is well-protected in the unlikely event of a fire, get in touch with us today and one of our friendly team members will be ready and waiting to help.