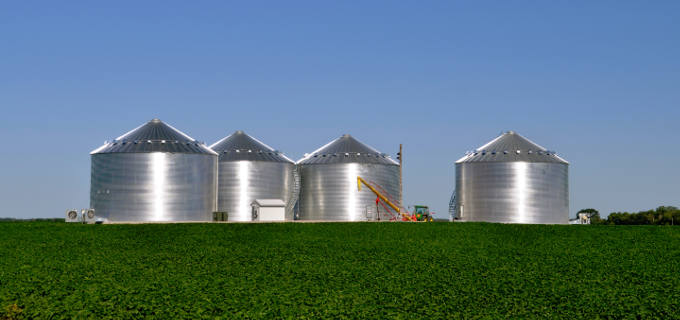 As suppliers of a range of flow switches and sensors, here at Applications Engineering we were interested to hear about the latest product development from Finetek. Those in the business of grain quality management will be delighted to hear more about Finetek's EST Series – a grain level and temperature monitoring system with monitoring from a single cable. It's the world's first system for monitoring both the level of grain in storage and the temperature using the same system.
The EST series is a grain temperature monitoring product line incorporating two types of cables, the EST110 and the EST120, and It employs an RS485 communication interface to transmit information to a central control room or SCADA / PLC / HMI (wired or wirelessly). The EST is matched with MMS-TLA Integrated monitoring software, so that the user can easily monitor dual information, both the temperature and grain level in the silo through any remote PC.
The EST 110 grain temperature monitoring sensor cable provides temperature sensing at up to 30 points along the length of its cable, with a maximum cable length of 98.4ft (30m).The EST120 sensor cable allows for grain temperature monitoring and continuous level measurement at the same time along its cable, with a maximum length of 98ft (30m).
The most important attribute of the EST series setting it apart from the traditional thermocouple based temperature monitors is the use of 1-wire digital temperature sensors. This technology makes the system much simpler and less costly to install.
The features
Widely used for many types of grain, including corn, soybean, sorghum, rice and wheat etc. Can even be used for monitoring coal or cement.
Real-time monitoring of grain temperature to prevent spoilage
Unique temperature and level monitoring
1-wire digital sensors
Extended durability – strong design of cables able to resist pulling force.
98.5 ft (30m) cable length
Ability to customise the number of and the location of sensors
Reliable level indication and pump dry run protection
Simple and easy to install
Remote monitoring PC software
The benefits
The problems associated with bulk grain storage are numerous and include deterioration of the grain, corrosion, pest damage and disease damage. Many of these problems relate to the temperature at which the grain is being stored. When the precise temperature of the grain can be monitored closely, any changes can be circumvented by the instant operation of an aeration or fan air-conditioning system. Efficient correction of temperature changes can be very effective at managing the quality of the grain in long-term storage.
Insect infestation and mould growth can also be detected by looking for temperature increases or 'hot spots' within the grain storage.