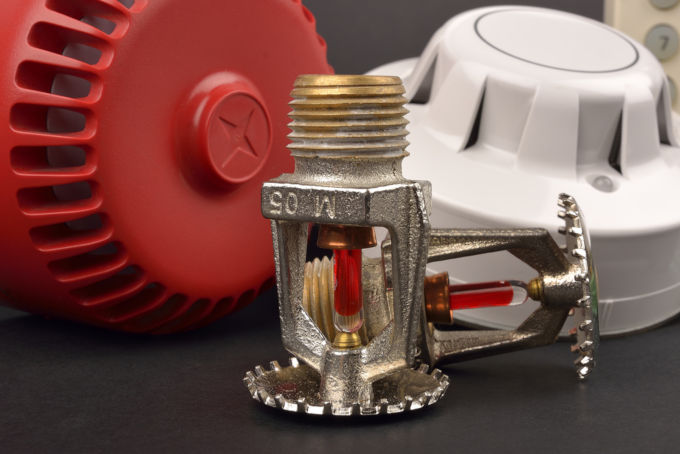 Following the events of the Grenfell Tower disaster back in 2017, implementing appropriate methods to improve the fire safety of UK-based properties has been a huge topic of debate.
With this in mind, one hotly contested issue surrounds whether legislation should be passed requiring the installation of fire sprinklers at select types of UK property. Many fire safety experts argue that it's a 'no-brainer', since the systems are solely designed to protect the public and ease safety concerns, but the government has remained slow to act, failing to provide much clarity on the issue.
Sprinkler support
Earlier this month, the Construction Industry Council (CIC) decided to throw their hat into the ring, releasing a statement outlining their stance. Their statement said: "[We] believe further action is required to improve the fire safety of buildings in the UK.
"At present, England, Wales, Scotland and Northern Ireland differ in their requirements for sprinklers, yet the incidence and science of fire knows no political or geographical boundaries. Harmonising building regulations across the UK regarding the installation of sprinklers would help provide extra clarity and protect the public."
The statement then goes on to say that the CIC pledge their support towards the installation of sprinklers in all 'new converted residential buildings, hotels, hospitals, student accommodation, schools and care home buildings above 11 metres in height'. It also says that the council support retrofitting sprinkler systems in existing buildings subject to 'material alterations'.
To conclude, the CIC's statement states that, in the 'absence of government legislation', each of its professional bodies will 'actively bring forward guidance to their own professionals'. This, as a result, will form their policy moving forward.
Welcome news
The CIC's statement in support of sprinkler systems is a very welcome and encouraging development. After all, protecting the lives of UK residents is paramount so anything that works towards that end goal can only be seen as a good thing.
Here at Applications Engineering, we fully support the CIC's stance and firmly believe that fire sprinkler systems should be installed in buildings throughout the UK. While we think that the government's recent review into fire sprinklers has also shown a lot of promise, there is still a long way to go.
It's vital for fire safety to remain a top priority in parliament, otherwise a lot of people will be left at risk. If you have a fire sprinkler system installed at your property in need of maintenance, or if you'd like any advice at all, please contact our team today.
We are experts in fire safety and our specialist team are trained to deal with any questions you might have. Simply give us a call on 01825 764737 or use our dedicated contact form here.