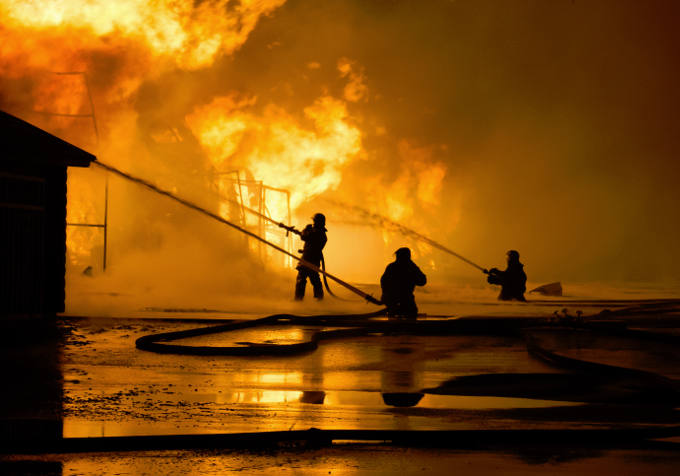 It has recently emerged that the Andover-based Ocado warehouse fire was caused because staff turned off the fire sprinkler system and tried to tackle the flames themselves.
Human error
Burning for four days straight back in February, the online food retailer's warehouse set alight in the early hours of the morning at approximately 01.41 AM. However, the fire went undetected by the warehouse's fire detection system, and was left burning for more than half an hour before being seen by an engineer.
A fire service report into the Ocado calamity now shows that this engineer and fellow members of staff were responsible for trying to extinguish the fire themselves, only deciding to dial 999 an hour later – once all other options had been exhausted.
The report also found that, despite the sprinkler system turning itself on and working successfully to contain the fire, the staff members involved decided to turn the system off for a five-minute period. The reasons as to why are unclear, but the decision proved to be disastrous – the fire only grew and grew, eventually destroying the entire warehouse.
The fallout
Since the calamitous event, Ocado have said that the fire cost them more than £100m and affected over 30,000 customer orders. They do, however, have plans to rebuild the warehouse but, in order to do so, will need to cut 400 jobs.
The report into the fire – due to be published in September – found that the blaze was caused by an electrical fault in a battery charging unit, setting a plastic lid on top of a grocery-carrying robot alight.
Learnings?
The news comes following the recent revelation that one of our sprinkler systems actually prevented a Southampton-based fire from spreading, proving just how important it is for them to function correctly.
This event only adds fuel to the belief that fire sprinkler systems are absolutely imperative for ensuring the safety and protection of businesses and employees. Had the sprinkler system not kicked in when it did, the fire would have spread a lot more quickly, potentially causing a lot more damage.
The disaster also exemplifies just how important it is for fire safety systems to not only be correctly installed in the first place, but professionally serviced on a regular basis.
Here at Applications Engineering, we are experts in doing exactly that – installing high-quality and trustworthy fire safety systems at a number of businesses, buildings and properties. Get in touch with us today to see what we could do for you.